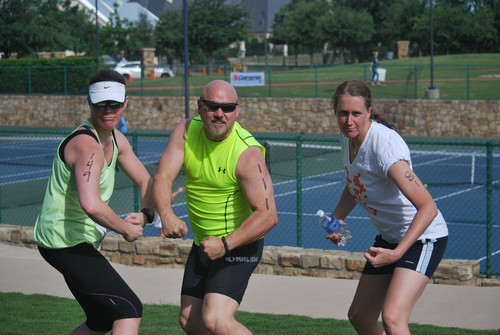 Three members of our b:hip corporate family competed in the 2014 Cooper Sprint Triathlon on Saturday, May 17th. Ann Erlandsson, Kim Daugherty (+ her son Mason) and Jim Grace did a spectacular job of swimming 350 meters, biking 12 miles and then running 3.5 miles! Powered by b:hip!
ANN | b:hip triathlete
I've always been very active doing different sports at different times. As I'm definitely not a sprinter, I've mostly been doing long-distance races to challenge myself. Despite this and my long-desire to do a triathlon, I didn't get around to it until we got a team together at b:hip early this spring. Naturally, we had the advantage at working with some products that would really help along the way.
I'm so proud of myself and my fellow bHIP triathletes for the dedication and motivation we've shown over the last couple of months! We did some work-outs together as well as helped each other with any other advice or input that we found. Every day we chatted and motivated each other at the office. Even though it's an individual sport, I feel that we couldn't have done it without each other. Go Team b:hip!!
JIM | b:hip triathlete
I firmly believe that there is no way I could have prepared for, much less completed, my first Sprint Triathlon without the help of bHIP products. Because of the products at b:hip, I now have the ability to manage the pain and lack of mobility that come from the toxins that have built up in my body. With the help of these products I now can push my body to levels that I could when I was in my 20's.
Thanks to b:hip products, my best days of competition are not behind me but yet to come.
KIM | b:hip triathlete
To train I incorporated a few biking and running sessions into my schedule each week, in addition to weight training or other Cross training – for me I did Insanity once a week to build my cardio and all around strength. I had a Fusion shake immediately following my workouts to provide 15g of protein to aid in muscle recovery. When I needed an extra boost of energy to get me through a workout or an afternoon where I was feeling tired, I took my Fix. AND – I sipped on PINK before and during my workouts. The triathlon was a GREAT experience, and I plan on becoming a TRUE TRIATHLETE this September, where I'll compete in ALL THREE sports for the Fall Cooper Sprint Triathlon!